Himalayan Brown Bear Camp
Himalayan Brown Bear Camp, Drass 2N3D (Ex Kargil)
Day 1: Drive from Leh to Drass
Arrive from Leh and you will be received by your tour leader in Kargil. Stop in Kargil town for lunch. Post lunch drive towards Drass, enroute visit Hundurman border village near the LoC. Continue your journey towards Drass. Arrive at homestay in Huliyal where Ahmed Ali our local spotter will be waiting. Get freshened up and relax. Take in the beauty of Drass valley over a cup of tea. Enjoy a local meal at the homestay and get an early rest. Your tour leader and spotter will brief you about the trail for the next day.
Day 2: Sighting Day
Wake up tea at 3 am. By 4 am join your guide and spotter and start hiking (45 mins to an hour) up the Huliyal hill as we scan the area for Brown Bears and other wildlife. Once atop the hill, settle down with your equipment and let the waiting game begin. The hilltop of Hulyal offers spectacular 360 degree views of the Drass valley with snow capped peaks all around and the infamous Tiger Hill peak is visible towards the LoC. Enjoy your packed breakfast as you scan the area. Besides Himalayan Brown Bears, other wildlife in the area is Himalayan wolf, Red Fox, Griffin, Bearded Vulture.
If the guests wish to stay at the spotting location beyond lunch time, freshly cooked packed lunch can be ferried to the spot. Guests can also choose to walk back down to Hulyal where hot lunch can be served at a local homestay. Once back at the base, the afternoon or evening can be spent exploring Drass on foot or by car. There will be plenty opportunities for engaging in stories about brown bear encounters with the villagers over a bonfire and a cup of tea. Dinner will be served at homestay . Retire early.
Possible activities in the afternoon or evening are:
Drive to Dropadi Kund: The Hindu mythological epic Mahabharata, mentions that the Pandavas made their final journey to heaven climbing up the Himalayas. As per local legend, this pond is the place where Draupadi, the Pandava queen, had her last bath before heading up into the high Himalayas along with her husbands. A small shrine is built at the spot and some people strongly believe that consuming the water from this pond will bless a couple with a child.It is situated at 10kms distance from Hulyal village.
Bimbhat Stone: At 5 Kms. ahead of Drass, there is another famous place related to Hindu mythology. The Bhimbat or "the Bhims stone" is a rock believed to be the solidified body of Bhim. The rock is revered by the locals even today as a precious legendry object.

Kargil War Memorial: Constructed by Indian Army in the memory of those soldiers and officers of Indian Army who lost their lives in Kargil War of 1999. It was built in the foothills of Tololing Hill along Srinagar-Leh Highway. There is a museum adjacent to the memorial which displays artifacts from the Kargil War of 1999.

Drive up to Manman pass: Man Man pass is approached by a scenic uphill drive from Bearas village towards Umbala pass which connects Drass with Sankoo. Once atop manman pass, one is presented panoramic views of Drass valley with tigerhill in the backdrop.
Drive to Mushkow valley: The Mushkow river drains the whole valley and joins River 1 Km. upstream from Drass town. Mushkow village is 8 km. from Drass town, via, of course, Huliyal. The valley has become famous as a battle field during 1999 War. It is also the base for Tiger Hill.
Day 3: Sighting Day + Drive back to Uley from Drass
Today we will follow the same routine and start our hike at 4am or set up our spotting camp at an ideal location. We will come back to base by noon. After a light snack, depart for Leh/Srinagar. Hot lunch will be served on the way in Kargil. Arrive in Leh by evening.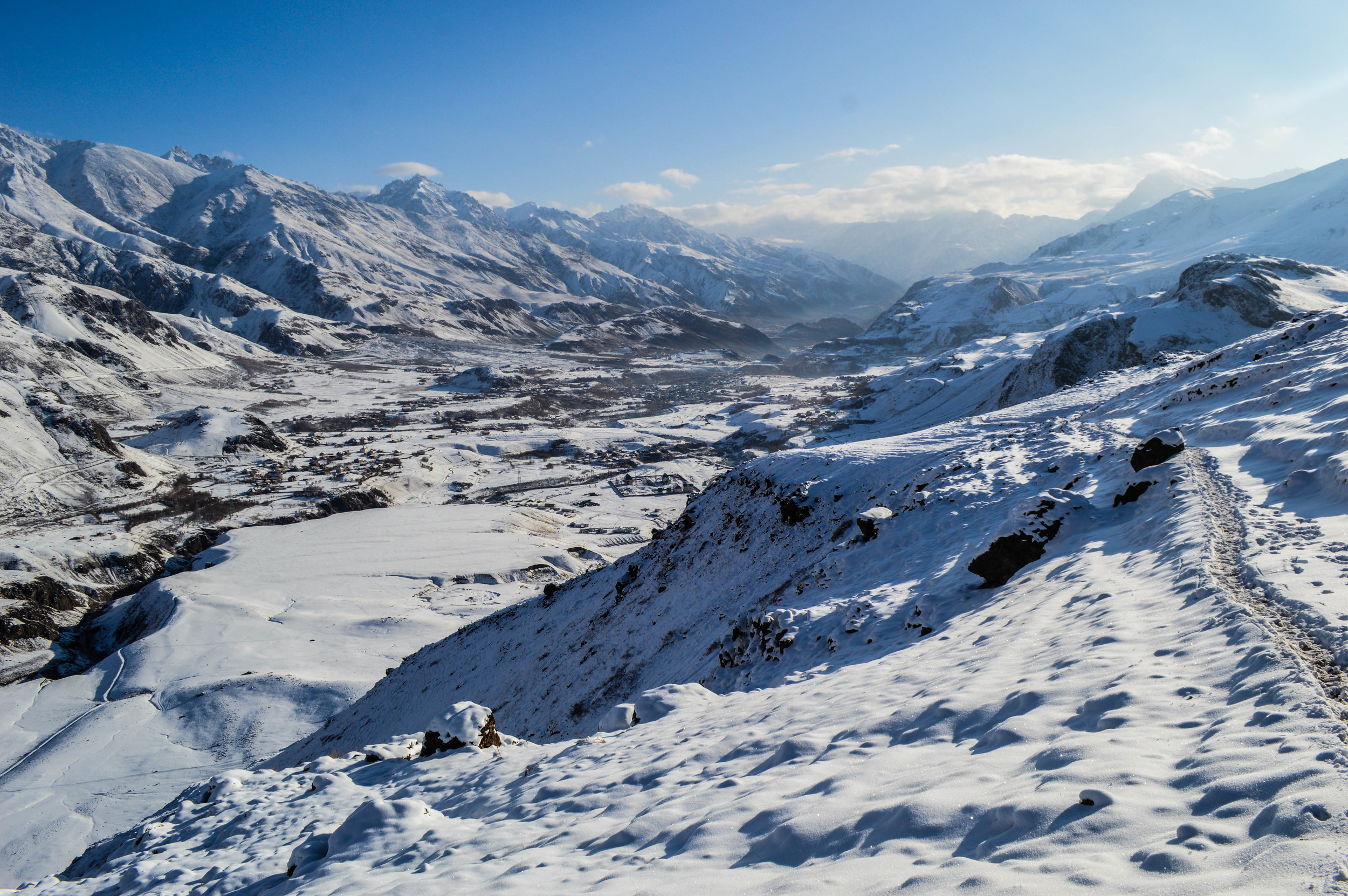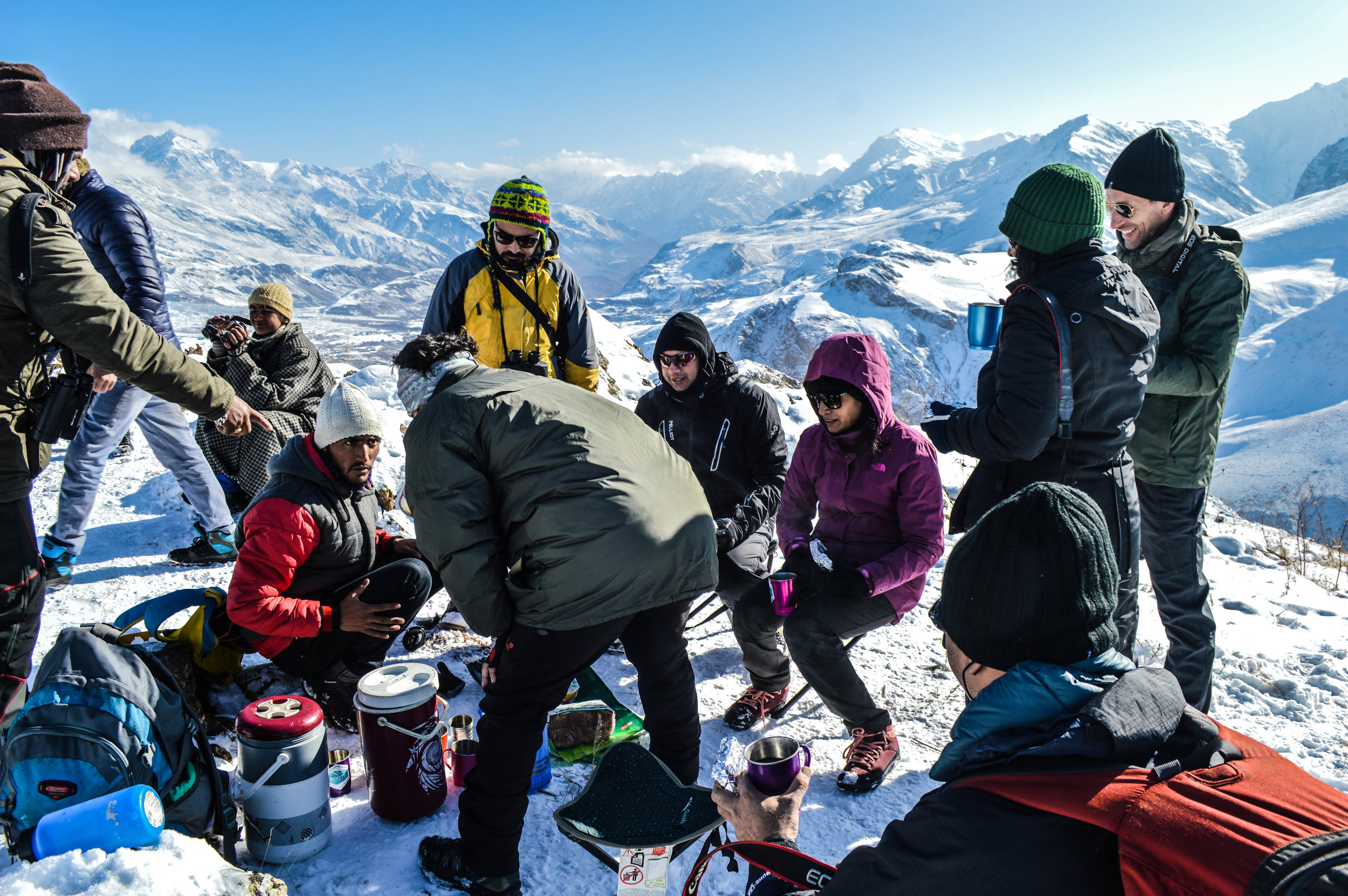 Inclusions:
Taxi fully engaged on disposal throughout the journey (Innova)

One tour guide

Two spotters

Homestay accommodation in Hulyal/Goshen village including all meals, morning and evening tea

Lunch in Kargil on day 1 and 3

Mineral water, snacks

Packed Breakfast/Lunch during sighting

Community fee

Mules/porters

First Aid
NOTE:
For 1 to 3 PAX one taxi is engaged

For 4 to 8 PAX two taxis are engaged

For 9 and 10 PAX 3 taxis are engaged
Fine Print & Trip Specific Important Information:
By signing up for a trip with us, you acknowledge that you have voluntarily applied to participate in this trip and that you have read the description of the trip as it appears and the information below:
All outdoor related activities involve a certain level of risk. You are expected to sign an Indemnity Form in agreement to the risks involved through part taking in such outdoor activities.

Delays are expected on account of roadblock & weather conditions. Our effort will be to continue with the trip as per the schedule & make you as comfortable as possible. But in such situations we may have to compromise on the campsite & adjust to these situations then & there. The final call will be taken by our Lead Guide on location.

The itinerary should be viewed as ideal we may have to make some spot changes due various unavoidable reasons.

The distances & altitude mentioned in the above itinerary are to the best of our knowledge & information; marginal variance in the actual distances & altitudes is possible.

You are expected to be in reasonable shape and fitness

Travel The Himalayas reserves the right and permission to use photographs of individuals and photographs submitted by them on tour for use in promotional and publicity purposes