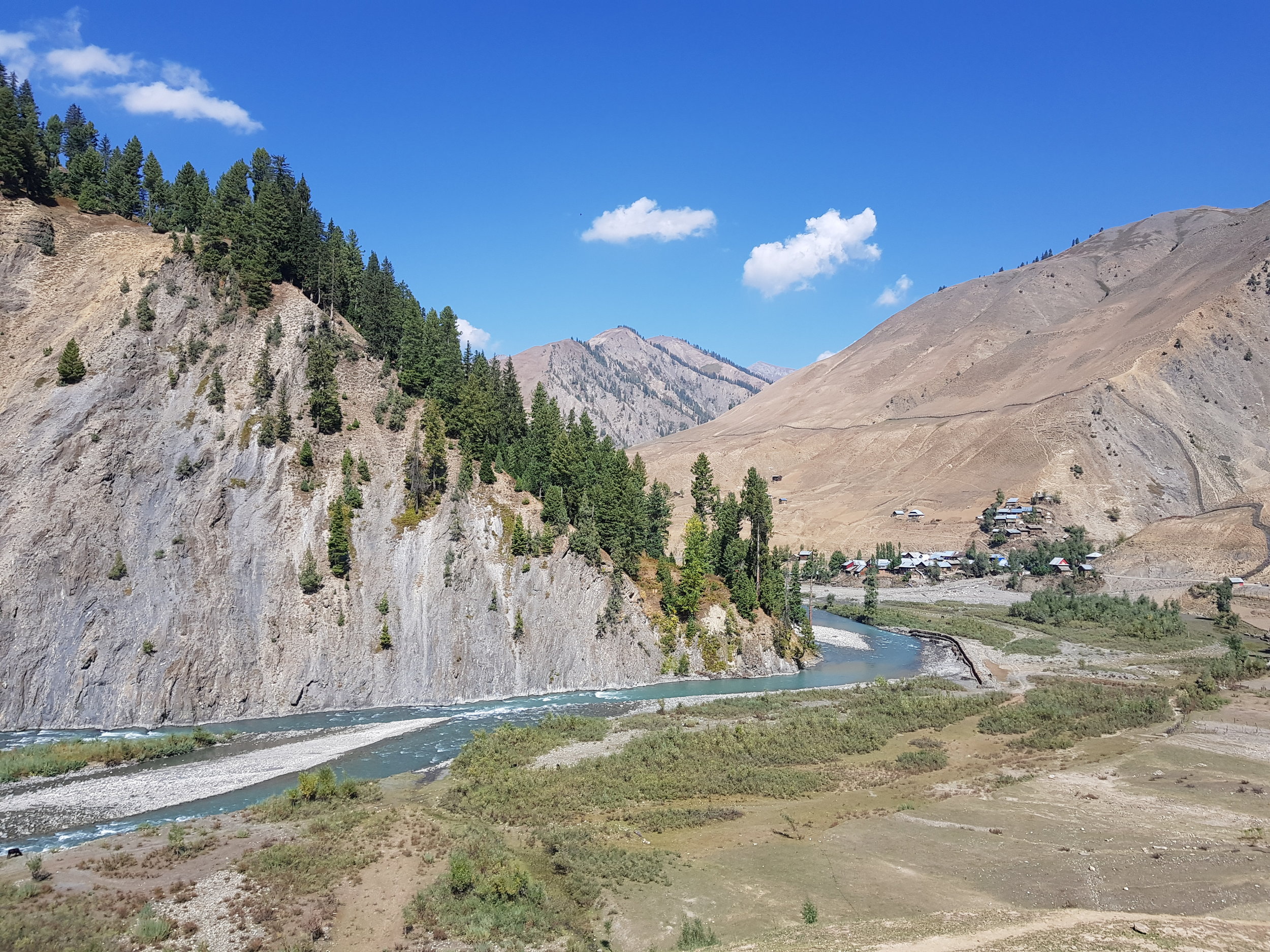 Gurez : The Land of the Shina
In the Morning we start the drive towards Gurez via Bandipora district of Jammu & Kashmir. Located at 86 kms from the Bandipora and 123 kms from Srinagar in the northern Jammu and Kashmir state, Gurez is a Valley situated in the high Himalayas. Road leads from Bandipora to Gurez via Razdan Top (alt. 11672ft.). Razdan Top is rich in medicinal plants. From Razdan Top, Harmukh Peak may be viewed which is one of the highest mountain peaks in Kashmir. Gurez is situated at an altitude of 8,000 feet above sea level and is surrounded by the snow capped mountains.
Alternately you can also reach Gurez via a Helipcopter ride and it will take approximately 20 minutes but you will get amazing views of the Valley from the Helicopter.
Overnight stay in Tourist hut at Dawar.
Day 02: Gurez : Dawar

After breakfast we roam around Gurez, The awesome Habba Khatoon Peak is a pyramid shaped peak lies in Gurez valley. The people of the Gurez valley are of the Dardi stock and they speak a language known as Shina. It is said that they migrated to this Region from Gilgit up North. They live in traditional log wood houses, the unique feature of the valley as Timber was material found aplenty in the Valley. The capital of Dards called "Dawar" is located in the Gurez valley and is a famous archaeological site.
Overnight stay in Tourist hut at Dawar.

Day 03: Gurez : Tulail

Drive towards Tulail area via Dawar and take in the awesome scenery on the way. We make stops on the way and take village walks & explore the rich heritage, culture & food with the locals. We go to Village of Sheikhpora for the evening.
Overnight stay in Homestay at Sheikhpora Tulail.

Day 045: Tulail : Srinagar (Dinner & Breakfast)

After Breakfast, pack our bags and drive back to capital city Srinagar.
Alternately you can also take a Helicopter ride back to Srinagar.

Cost Includes:
Accommodation - for 01 Night in Deluxe Houseboat.

Accommodation - for 02 Nights in Tourist hut (Dawar).

Accommodation - for 01 Night in Homestay (Tuleil).

Accommodation - for 01 Night in Standard Hotel (Srinagar).

Meals as mentioned.

Transportation - Entire round trip journey ex Srinagar by a non air-conditioned Scorpio or similar (a/c on demand).

Car Including: Fuel, Parking, Road tax, Toll tax, State taxes, Vehicles Insurance and Driver Expenses.

All applicable hotel & transport taxes.